Crooked teeth or a misaligned bite can cause pain, tension, and leave you feeling self-conscious.
Orthodontic treatments like braces can correct crooked, crowded, and misaligned teeth, restoring appearance and function to your smile.
New Jersey Dental Centers has multiple New Jersey locations and comprehensive care to align your teeth and give you a beautiful smile.
Orthodontics is a field of dentistry that focuses on the treatment of irregularities such as crooked teeth and jaw misalignment.
Traditional Orthodontic Treatments
Braces and clear alternatives, such as Invisalign®, are established orthodontic solutions for patients with crooked, crowded, or misaligned teeth. While the most obvious benefit of orthodontic treatment is an improved appearance, braces can also treat or prevent oral health issues. Patients with straighter teeth can brush and floss more easily, which prevents decay and gum disease.
If you are suffering from discomfort in your jaw, traditional metal braces and alternatives like Invisalign may provide relief by restoring your bite. By shifting teeth into their proper positions, treatment can prevent excessive wear and tear on your teeth, as well as ease tension in the jaw. By restoring the alignment in your teeth and jaw, your bite will function better and you can avoid or eliminate painful TMJ.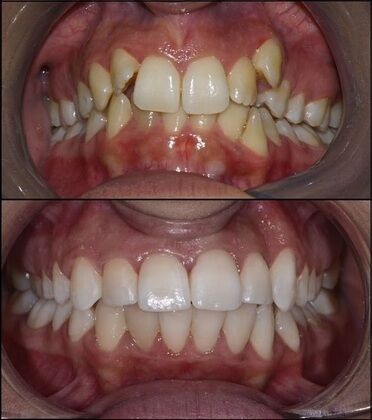 "Great communication skills, Very Organized & Over all a great experience. Doctors go at your pace, which is one one my favorites things about my visits. Highly recommended!"
Multiple New Jersey Locations to Correct Your Crooked Smile
New Jersey Dental Centers have multiple locations across the state to provide you with convenient, compassionate, and high-quality orthodontic care to restore your crooked or misaligned smile. Call the office nearest you or fill out our online form to schedule a free initial consultation today!
Five-Star Reviews From Our Patients
I love this office I have been A patient of the office for a few months They always treat me with the upmost care and respect The ladies in the front as well as my doctor really shows exceptional customer service and bedside manner Really happy to be a part of this office!
View on Google
This office is the best dental office I've ever been to amazing service all around From the check in to check out! The staff is superb
View on Google
Alternatives to Traditional Braces
If noticeable metal wires and brackets are causing you to avoid orthodontic treatment, New Jersey Dental Centers offers clear alternatives to traditional braces. Crystal Clear Aligners® and Invisalign® correct misalignment without metal brackets and wires.
With Invisalign and Crystal Clear Aligners, clear trays replace the metal brackets and wires, but work much like traditional braces by slowly shifting the teeth into proper alignment. Instead of adjusting the wires, you will receive a new tray as your treatment progresses. These trays are slightly different each time. This works just like the metal wires, gradually guiding your teeth into proper alignment.
Not Sure Which Orthodontic Option Is Right for You?
Everyone has unique needs and goals, and our team at New Jersey Dental Centers wants to ensure that your orthodontic goals will be met to give you a beautiful and functional smile. If you aren't sure if traditional braces or clear alternatives like Invisalign are right for you, call us at the location nearest you or request a free consultation with our dentists today!
Frequently Asked Questions
How long does treatment take?
Item Subtitle
This varies by patient due to unique orthodontic needs. During your initial consultation, your orthodontist will evaluate your teeth and bite to create a custom treatment plan. On average, patients typically have their braces removed within 18-24 months. After the braces are removed, an aligner (retainer) will help maintain your new smile. These retainers are custom made to fit your new smile.
Does it hurt?
Item Subtitle
Traditional braces can be mildly uncomfortable as they are adjusted. With Invisalign or Crystal Clear Aligners, the series of trays will be fitted during your appointments to ensure they do not rub your gums, but there can be some mild discomfort as your teeth adjust to each new aligner. If you experience significant pain or discomfort that cannot be managed, please contact your dentist. We have an answering service available 24/7 should you have pain, questions, or an emergency after-hours.
How much does it cost?
Item Subtitle
The cost varies based on treatment need and the method of orthodontic treatment you choose. At our practice, the cost of treatment ranges from $2700-$8000. Our practice will help file with your dental and medical insurance, saving you time and money. By filing with your medical insurance as well as dental, we can save you even more money. We also accept CareCredit® to help with financing not covered by insurance.
Is there an age limit for orthodontics?
Item Subtitle
While a majority of our orthodontic patients are children, teens, or young adults, there is no age limit for orthodontic care. It is never too late to correct a misaligned bite or crooked teeth and get the beautiful smile you have always wanted.
Do I have to avoid certain foods during treatment?
Item Subtitle
Sticky or hard foods like gum, popcorn, raw vegetables, and certain candy can cause problems with your metal braces. Sticky foods can pull at the brackets and wires, breaking them loose. It is best to avoid some things while undergoing traditional orthodontic treatment.

Invisalign and Crystal Clear Aligner trays are completely removable. There are no food restrictions when undergoing treatment because you can take them out before eating.
I am missing a tooth. Can I still seek orthodontic treatment?
Item Subtitle
Yes. Missing teeth can cause other teeth to shift and cause problems within the dental arch. Orthodontic treatments like braces can help prevent or treat this problem. We also offer multiple forms of treatment to restore the function and appearance of your smile, such as dental implants and bridges.
How Do I Clean My Braces or Clear Alternatives?
Proper hygiene is important to maintain your oral health. Brushing with braces is not difficult. However, you may need additional tools like a small wire cleaning brush to ensure that you can properly clean around the brackets and wires. Your normal toothbrush will do most of the work. You will simply need to brush around the brackets and wires, and the smaller cleaning brush will get where the toothbrush cannot reach.

With Invisalign or Crystal Clear Aligners, you will remove the aligner and brush and floss your teeth as normal. The removable trays will require proper cleaning daily. Simply rinse and use a soft bristle brush and mild soap to ensure the trays are clean.
No matter which type of orthodontics you choose, your dentist will go over all the proper cleaning techniques with you to be sure you can maintain your braces or clear aligners.
More Five-Star Reviews From Our Patients!
I love this office and everyone that works here keep up the great work
View on Google
Super friendly staff, very clean office, atmosphere is so relaxing and friendly would definitely recommend to anyone thinking of coming here
View on Google