Traditional implants can change your life, but it takes months before they can support a denture, and they often require bone grafting.
All-on-4® dental implants are an alternative that can support a full-arch denture right away, often without the need for a bone graft.
New Jersey Dental Centers can provide All-on-4 implants to put you on the faster track to a restored smile.
A Stable, Efficient & Conservative Treatment
Using just four implants, this solution provides you with the same advantages of
traditional implants
, as well as some benefits that are unique to All-on-4:
Restored Function
Like traditional implants, All-on-4 implants will hold your full-arch denture firmly in place as you speak and chew. This implant treatment also provides stimulation to the jaw, halting the bone atrophy that follows tooth loss.
Immediate Results
Traditional implants often require a healing period of three to six months before they can support implant dentures. But in most cases, All-on-4 implants can support your denture immediately after they have been placed.
Avoid Grafting
Many patients need bone grafting to replace lost tissue and ensure the jaw is able to support traditional implants. All-on-4 is designed to achieve maximum surface contact with existing tissue, often eliminating the need for a graft.
Check Out Our Amazing Transformations...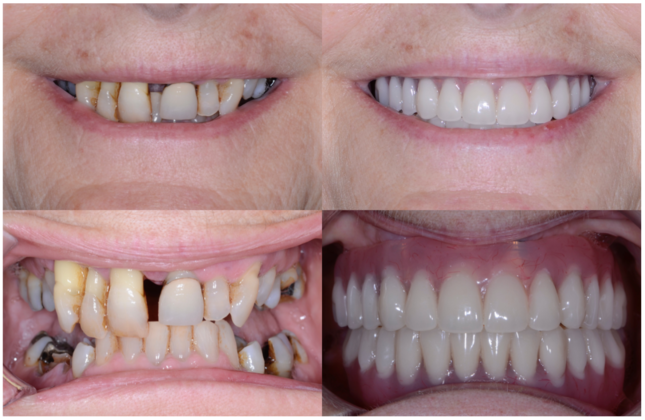 New Jersey Dental Centers has offices throughout NJ. Whether you want implants or need a checkup, you never have very far to travel.
Approaching Your Dentistry Needs
from the Right Angle
All-on-4 allows you to experience the benefits of
dental implants
on a shorter timeline due to the angle at which the two posterior implants are placed. This allows the implant to gain maximum support from the remaining bone tissue, which means that even if you have suffered some bone atrophy,
grafting
may not be necessary. This feature makes it possible to not only shorten your timeline by many months, but also begin wearing an implant-supported denture right after placement surgery.
Get Started Today!
We Make Cutting-Edge Dentistry Available to You
Are you tired of loose dentures that keep you from speaking clearly and enjoying the foods you love? Have you hesitated to explore dental implants due to the long treatment timeline? If so, you have everything to gain by speaking with our New Jersey dentists about whether All-on-4 is your ticket to a new era of confident smiles, better meals, and a generally improved quality of life.
Drs. Khaled Eldin and Mouner Amer lead a team that has helped clients throughout the Garden State experience incredible benefits through custom dentures supported by All-on-4 dental implants. There is no need for referrals–we can handle the entire treatment ourselves, from tooth extractions to grafting to implant placement. Let's make time to find out if this or another solution is the way to help you overcome the frustration and discomfort of unstable traditional dentures. You can contact us online or give one of our 14 office locations a call.
"10/10" and Other 5-Star Reviews
This office was amazing! The doctors and front desk always are patient and always on par very patient with finances and kind 10/10 would recommend
View on Google
Love this office! Rebecca was the best!! Painless cleaning and so nice! highly recommend coming here!
View on Google
The Results?
Nothing Short of Life-Changing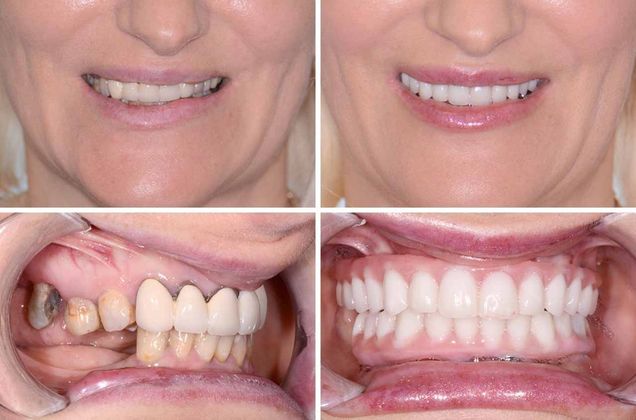 The All-on-4 Treatment Timeline
For many patients, this implant solution involves fewer surgeries and a simplified timeline.
"Overall great experience."
Hear from Our Patients
Angela in the front, was filling in for today helped me get a same day new patient appointment really happy to be apart of this office now look forward to coming back!!!
View on Google
Angela and the rest of the front desk staff are very kind and sweet!!!! Helped me out, got me in early because I had to go to work overall great experience today!!
View on Google
Let's Find the Right Solution for You
Contact Us Now
Patient education is a cornerstone of New Jersey Dental Centers, and we want to help you make an informed decision about your dental implants treatment. If you are ready to take a deeper dive into what makes this treatment such an important landmark in dentistry, and how it can help you say goodbye to the shortcomings of traditional dentures, let's talk! Whether you have lost one tooth or all of your teeth, our NJ practice can provide the solution you need. Email our practice or request an appointment today at a New Jersey Dental Centers office near you.
Services was excellent... Making and emergency appoint was. Has my tooth pulled and Dentist was awesome and walked me through the process.Front desk and office manager was very helpful and made me feel super comfortable. Dental assistant Basia was very knowledgeable and made me feel comfortable.
View on Google
This is a gem of a Dentist ! The office staff is professional and great . Dr Gustavo is an amazing dentist that if you have ever been afraid of receiving treatments this is your dentist. He makes you feel comfortable and safe ! His hands are truly magical. I more than highly recommend this office I finally found an exceptional dentist and the best staff ! High tech as well as latest innovative techniques Thank you for always providing exceptional service.
View on Google
Whether you are waiting for your scheduled appointment or not quite ready to book a consultation, we understand that you probably have many questions about life with All-on-4 dental implants.
Our NJ dental practice
has provided some answers to the most frequently asked questions regarding All-on-4 in order to help you better understand what you can expect if you choose this method of smile rehabilitation:
Does the dental implants placement procedure hurt?
Before your surgery, we will provide local anesthesia to numb the treatment area and virtually eliminate pain. Sedation is available upon request to help you feel calm and relaxed. You can expect some discomfort as you heal, but this can be controlled with over-the-counter pain medication, cold compresses, and other solutions that we will explain before your
dental implants
procedure.
How long does surgery take?
You can expect your dental implant placement procedure to take about 2.5 hours per dental arch. We recommend that you arrange a ride to and from your appointment and that you plan to spend the remainder of the day resting comfortably at home.
Will dental insurance cover this procedure?
If you have dental insurance, it will probably contribute to the cost of your denture and any preparatory work you need in order to resolve issues such as gum disease or tooth decay. However, basic dental insurance does not contribute to the cost of the dental implants. You can depend on our staff to help you make the most of your insurance coverage, and we offer financing to make any out-of-pocket expenses affordable.
How do I take care of my dentures after I receive All-on-4 implants?
If you're used to having to remove and soak traditional dentures every night, we have good news–your All-on-4 dental implant-supported dentures are no more difficult to maintain than natural teeth. You should brush your replacement teeth twice each day and floss at least once daily. Be sure to visit the dentist twice a year for a dental checkup so that he can monitor the condition of the dentures and implants, as well as the health of any remaining teeth and your gums.
So can I go celebrate with a steak dinner after my All-on-4 surgery?
Although you're going to be able to start enjoying many benefits of a stable denture right away, it's important to remember that you are still healing, and you're going to need to stick to a diet of liquids and very soft foods until you are cleared by your dentist. During follow-up appointments, we will take x-rays to gauge your progress. Once we confirm that your implants have completely integrated with the bone tissue, you're all clear to book a table at the steakhouse!
How long do the results last?
The dental implants themselves have been found to last 40 years or more as long as you are willing to commit to basic daily oral hygiene practices and regular visits to the dentist. Your denture could last as long as 10 years with proper care. When it's time for a replacement, we are here to provide a new custom denture for you.